September 27, 2021
GFA BOV Gozo Football League Division I – Match Day 4 Gozo Stadium
Sannat Lions FC : 0
Nadur Youngsters FC : 4
30 '(0-1) Marcelo Barbosa
64 '(0-2) Marcelo Barbosa
75 '(0-3) Joseph Mario Vella
90 '(0-4) Stefan Cassar
Sannat L:
L. Xuereb, A. Sutana, LB Da Silva, HF Solis, D. Borg (M. Azzopardi), L. Silva Gomes, M. Mamo, M. Mifsud, N. Biculjevic, A. Azzopardi.
Young Nadur:
S. Sultana, L. Moreira, JM Vella (MP Camilleri), I. Xuereb, J. Zammit (C. Camilleri), M. Barbosa (OP Bugeja), E. Bruno Domingos, S. Cassar, G. Muscat (M Tabone), J. Flor Da Silva (L. Atzori).
Nadur Youngsters joined Ghajnsielem at the top of the standings with points from a victory against the Sannat Lions. Nadur got off to a slow start in this game but they stepped up their efforts over time, opened the scoring in the first half and converted their superiority over their opponents by scoring more goals after the break.
Nadur one has once again expressed the potential of his team which aims to be serious challengers for the title. The Young people organized themselves well to neutralize Sannat's enthusiasm during the first part of the match and from the opening of the scoring they took control of the game to secure three points before the final stages of the match.
Sannat struggled to stay in the running for a positive result but their attacking play rarely produced dangerous actions on Nadur's goal so they ended up conceding the second loss in a row and remain in second place for the bottom of table.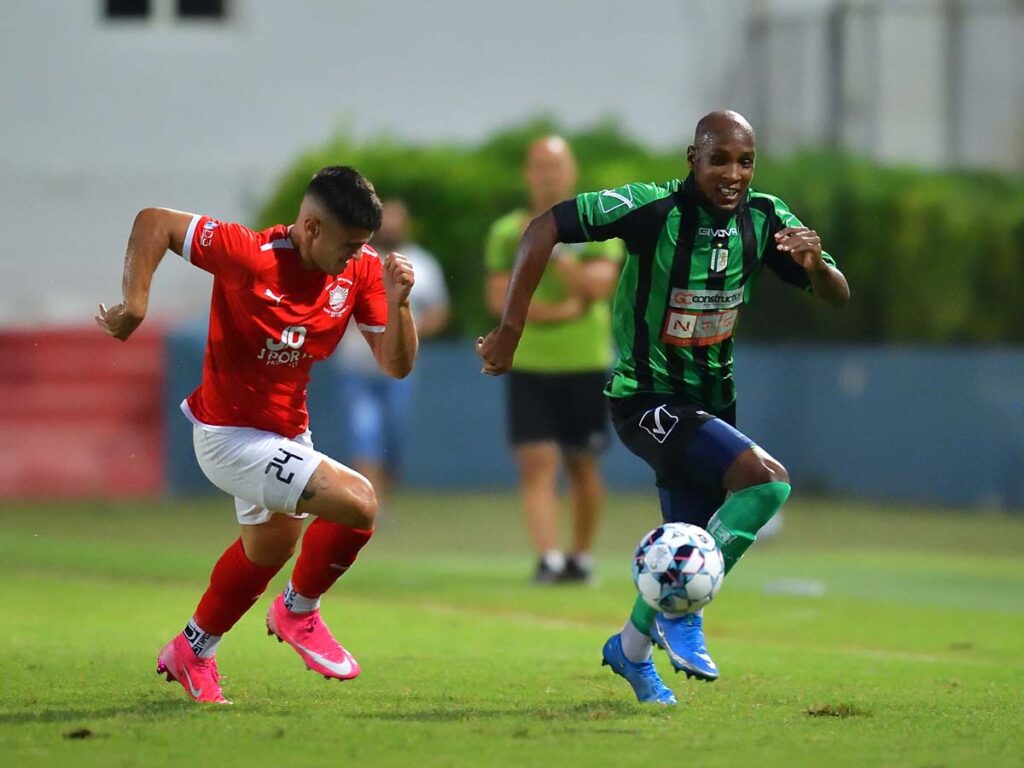 Chronology
During the first part of the game, the Sannats shared the game with their higher-rated opponents but both defensive serves seemed well organized and the goalkeepers weren't called in to make difficult interventions.
6 'Nadur managed the first serious attempt at goal but Stefan Cassar's cross shot was pushed back for a corner by goalkeeper Lorjean Xuereb.
20 'Sannat had his best scoring opportunity in the first part of the game when a header from Marlon Mamo following a free kick from Henry Fabian Solis ended right next to it.
Nadur took more control of the game during the second part of the first half and dominated his opponents from the opening goal at the half hour.
29 'Nadur was again dangerous on a personal action by Marcelo Barbosa but the attacker saw his low shot which was saved by goalkeeper Lorjean Xuereb.
30 '(0-1) Nadur opened the scoring when the Sannat goalkeeper partially stopped a low shot from Judivan Flor Da Silva and Marcelo barbosa blocked the clearance of the defense to place the ball in goal.
35 'Le Jeune lost a good opportunity to double the score when Marcelo Barbosa entered the box on a personal action but his last attempt was blocked by goalkeeper Lorjean Xuereb and central defender Lucas Baretto Da Silva cleared the danger of the surface.
40 'The goalkeeper of Sannat was called for another good intervention to save a kick from defender Fabian Xuereb following a cross from the right flank of Judivan Flor Da Silva.
HT (0-1)
Sannat was more adventurous in trying to close the deficit, but they struggled to convert their play into scoring opportunities. Sannat ended up giving space to his defense so Nadur continued to be more dangerous and created good scoring opportunities.
45sec. Nadur should have capitalized better but a close range shot from Joseph Zammit following a Marcelo Barbosa cross was well saved by Sannat goalkeeper Lorjean Xuereb.
6 'The same goalkeeper was well placed and countered once an effort from Judivan Flor Da Silva.
9 'Marcelo Barbosa from Nadur came through Sannat's defense on the left side but his attempt at an angle was blocked by the post.
12 'In another good action from Nadur, a shot from Stefan Cassar finished high.
13 'Goal opportunity (R) Nebojsa Biculjevic surprised their opponents when Nebojsa Biculjevic came through the defense but his low shot at the second post was countered with difficulty by keeper Steve Sultana.
18 'Sannat central defender Lucas Baretto Da Silva prevented Nadur from scoring the second goal on an attempt by Marcelo Barbosa after receiving substitute Chris Camilleri.
19 '(0-2) Nadur however doubled the score when Sannat's defense hesitated to clear the ball from its surface, a strike from Judivan Flor Da Silva was partially saved by goalkeeper Lorjean Xuereb and Marcelo barbosa header for an open goal of the rebound.
30 '(0-3) The Youngsters practically secured the win with the third goal that came with a spectacular long-range strike from Joseph mario vella.
33 'Sannat goalkeeper managed to block a low shot from Chris Camilleri after receiving Marcelo Barbosa following an extended action inside Sannat's box.
41 'Sannat could have scored a consolation goal but a header from Fabian Xuereb following a free kick from Henry Fabian Solis missed the goal.
45 '(0-4) Nadur scored the fourth and final goal thanks to a strike from Stefan Cassar following a cross from substitute Owen Peter Bugeja.
FT (SL 0 – NY 4)
Referee: Andrea Sciriha